The League Dating App Review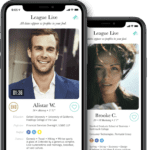 The League is one of the newer dating apps on the market. It is rapidly gaining popularity in major cities, and has the potential to be a great option for singles who want to meet new people. In this review, we'll look at the app's Selective nature, how to get a premium account, and its user-friendliness.
Requirements to be approved for the League dating app
If you are considering using the League dating app, there are certain criteria you need to meet. This app is intended for busy professionals who are interested in dating others. This app requires users to fill out a comprehensive profile and to have a professional profile. It also requires members to disclose their ethnicity. These are all important requirements for joining a dating app that aims to make the online dating community more diverse and inclusive.
You must fill out the application form completely and submit a photo. The application process will take two to three weeks. However, there are some things you can do to speed up the process. First of all, you should be patient. You can't expect to get approved overnight, especially if you are a first-time user.
Second, you should provide high quality photos. The League dating app requires HD studio-quality pictures. You can upload a minimum of six pictures. However, Amanda, the founder of The League, strongly advises users not to use their default Facebook pictures. In addition, the more details you provide in your profile, the more likely you are to get accepted.
Once you submit a profile and photo, you will be placed on a waiting list for review by a human. During this time, the League will assess your application and accept you if you meet the criteria. If you are not accepted the first time, you can always try again later.
League is known for its high standards and strict adherence to user preferences. It only allows a certain number of matches each day and can take months to manually review guest profiles. However, paid memberships can speed up the approval process by a day or two. In addition, it gives you the option to view matches in less than 48 hours.
Once you have met the criteria, you can then move onto other steps. You should fill out your profile thoroughly. Even if you are not accepted for the League, you should spend time crafting your perfect online dating profile. Having the right profile is essential to a successful match.
Selective nature of the app
The League is a dating app that caters to a certain demographic. It focuses on people who are educated, ambitious, and intelligent. Founder Amanda Bradford decided to make the app after she broke up with a long-term partner. She wanted to find someone who was successful and educated, and thought there had to be a better way. The League plans to launch with 500 carefully curated members, who have a high level of educational attainment and an interest in dating. It will also feature a concierge service that will help match people.
In terms of location, League is available in more than 150 cities around the world, including Boise, Idaho. However, there is a waiting period for users from certain cities. The League website is cagey when it comes to the number of matches per city. Whether this means that you'll have to wait for some time before you can use the app is unclear. Nonetheless, it's worth mentioning that you should be aware of the waiting time before using the app.
Benefits of paying for a premium account
You can try The League for free as a guest user, but you can also sign up for a premium account to enjoy many additional benefits. These features include expedited application review, read receipts for your messages, and concierge support. Premium subscribers will also have access to more potential matches every day. Subscriptions can last for one week, three months, six months, or 12 months.
You can join League Groups in the app to meet other elite singles and arrange hangouts. There are various groups on the app, but the most popular ones include "Nantucketers," "Hamptons Crew," "Brunch Lovers," "Yacht Week," and "World Travelers & Road Warriors." These groups can be beneficial if you're looking for a partner.
You can choose from six different photos that have been sourced from your Facebook profile. You can then arrange them in any order you'd like. You'll also need to fill out an "About Me" section. Your bio can be up to 140 characters. Once you've completed this section, you can set the criteria you'd like to match with, such as gender or age range. You can also upload a 10-second video profile.
Premium membership allows you to access the best features on the app. You can customize your profile, view the profiles of other members, and chat with them. You can also connect social media accounts and attend League Live events. However, a free account does not allow you to participate in daily matches, boost your profile, or check whether anyone has read your messages.
Premium membership gives you faster verification. Unlike free accounts, premium members get into the app within a day. In addition, you can skip linking your social media accounts and have your application processed within the same day. Furthermore, you'll be able to receive matches daily at 5 PM.
Premium membership also allows you to get more matches. It's important to note that if you message someone a lot, it may hurt your League Score. The algorithm penalizes members who flake out too much. Therefore, if you message someone too often, your matches will expire.
User-friendliness of the app
In a recent interview with Google, The League's founder discussed some of the challenges the dating app faces. He explained how the company uses methods like LinkedIn to identify top singles, but this method has its limitations. In areas where LinkedIn is not widely used, the company will face difficulties in finding and matching the right people.
The League team actively relies on LinkedIn data to match users with other members based on their profile and interests. They claim that this helps them pick the most suitable prospects for them. However, some have criticized this method as racially discriminatory and sexist. For example, some users have questioned the accuracy of the algorithm, believing that it uses social data to match users.
League claims to screen subscribers to ensure a safe and respectful environment. However, they brag about how well-qualified their subscribers are. The company claims to offer a secure environment that is free of scammers, fake accounts, games, and danger. Its registration process requires users to connect their social media accounts. League moderators review these profiles before they are approved.
Site Statistics
Today's visitors:

0

Today's page views: :

0

Total visitors :

946

Total page views:

1,566